I'm rather tardy with this report, but various travel-related items needed attention before I could sit down and write. Apologies, Ohio crew!
Several Ohio CAG members gathered together on Dec. 31, 2009 to kick off the new year in fine First Fish Folly style. Special guest Bigbird from Georgia was also present, holding court and keeping the stories flowing. I tagged along with my father, Larry, to witness the fishing revelry and try to pull an FFF carp. The air temps dipped below freezing, with single digit windchills. I believe the water temps were in the low forties (someone correct me if I'm wrong on that one). Here is the gathering of crazy frozen carpers: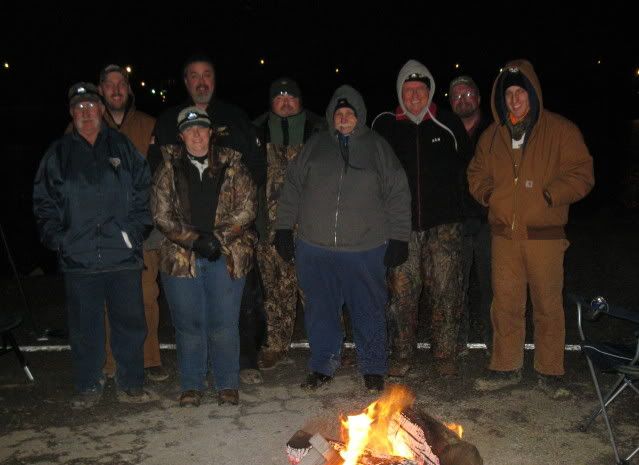 (Larry, Rob, Rachel, Bigbird, Rod, Vic, Phil, Rick, Vince)
Bigbird arrived on the morning of the 31st and started fishing right away. Word is, he pulled a couple of carp in the morning. Various other folks showed up at staggered intervals, but my father and I didn't get there until almost 7pm. It was already dark and the blue moon was on the rise. Our arrival was greeted enthusiastically, since we were the only ones who brought firewood.
A fire was started in short order and chairs were immediately circled around. Vic had his feet so close to the flames I feared he would melt the rubber on his shoes. River Rick had a big bucket of hot chocolate, Rodman served up sloppy joes, with coleslaw and chips, and Dad brought out chili, with banana bread for dessert.
The venue was pretty friendly (with one important exception) for the fishing, with a wide paved surface allowing us to back right up to the shoreline and fish out of our vehicles. The exception was the layer of mud present on the last several feet to the water, the result of high water the previous week. It was very slippery and odds were laid as to who would be the first to slide into the water.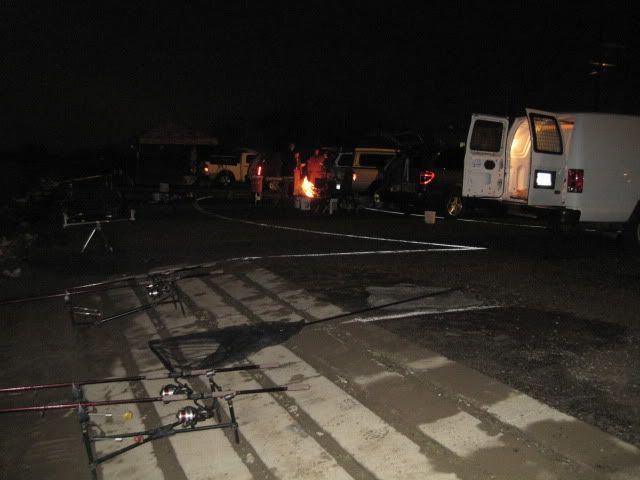 The stories and fellowship were in full swing, but the fishing was pretty slow. Occasionly a single beep would draw someone's attention, only to follow with silence. Finally Bigbird's alarm started to bleat steadily and he hooked up with an Ohio carp. After a brief fight, the fish was brought to the net.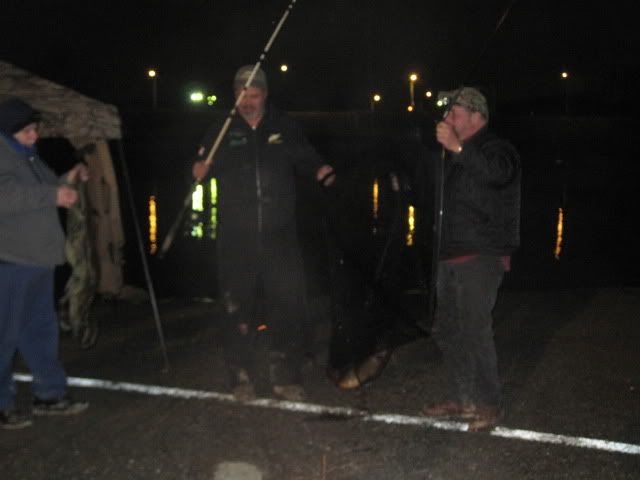 Unfortunately, it wasn't midnight yet, so this fish didn't count for the FFF. But Bigbird seemed pretty excited anyway.
Not long after, another alarm wailed. This time it was Vince's hook that found a stray carp's mouth. Here brother Rob nets the fish. Note the giant mudslick they are standing in.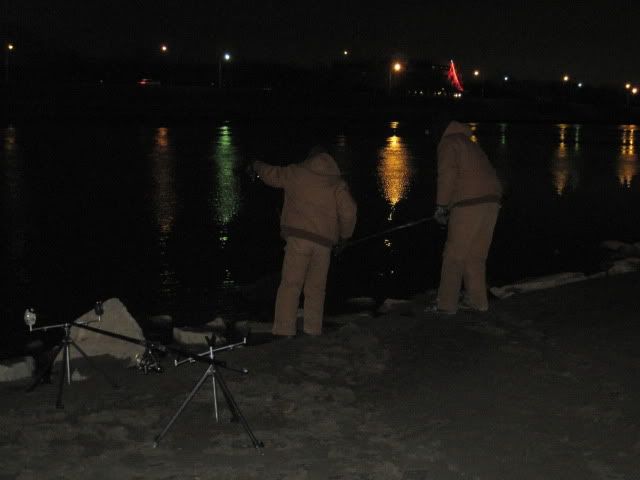 Another pre-midnight fish, but a big smile to go with it anyway. Any fish in the dark and chill seemed like a victory.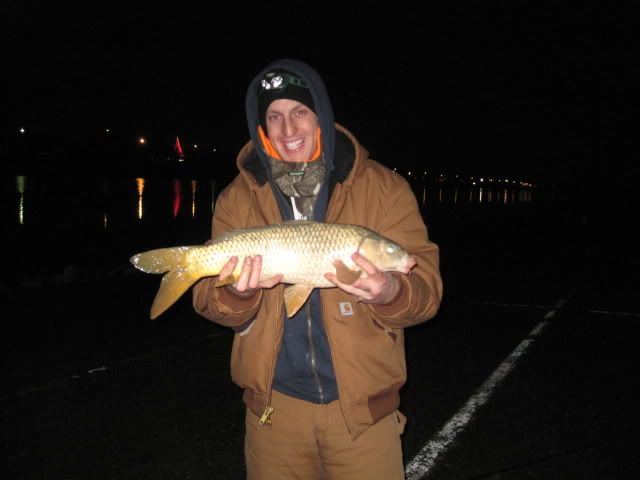 The minutes to midnight clicked away, and everyone pulled their rods in preparation for recasting at midnight. River Rick popped a bottle of champagne and poured the cheer into some disposable cups for a midnight toast. When the new year rolled over, we toasted the champagne, casted out the rods and then called loved ones to wish them a happy new year (one must have their priorities right). We then proceeded to sit around, telling more stories, feeding the fire and calling around to other crazies in the cold. The bite was slow (non-existent!) and it wasn't looking promising. We had a few visitors including Bigbird's wife, River Rick's daughter and her husband (who kindly took the group photo), and several members of Rod's family (who absconded with the remains of the sloppy joes
).
It wasn't until nearly 2am before an alarm sounded. Once again it came from the end pegs, Vince's rod. After some calling out and fumbling around, someone dashed over to pick it up. Vince was in the process of changing his socks (I think?) and couldn't get his boots on fast enough, so Rob kindly stepped in to help. Vince managed to get his boots on in time to net the fish. The net had to be pried from the ground to which it was frozen.
Rob had caught a fish prior to 6am on Jan. 1, in sub-50F waters. The only thing that would make it better? If that fish was a lovely little mirror.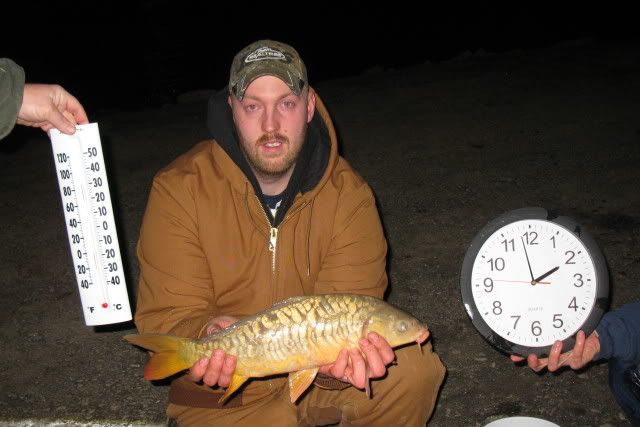 The appropriate measurements were made, pictures were taken and the fish was promptly returned to the river.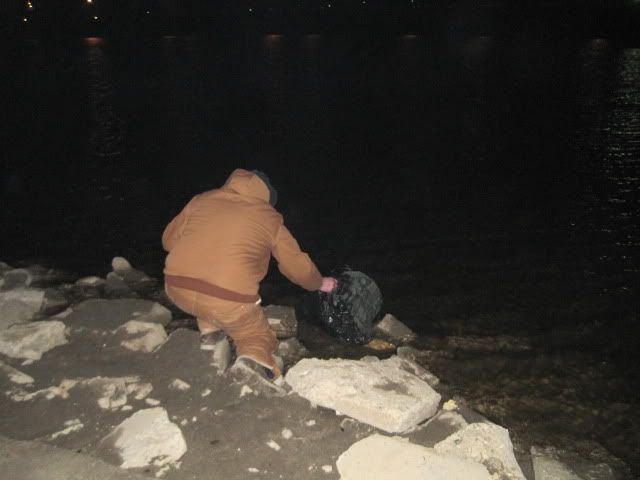 Dad and I left not long after that, pleased that we at least got to see an FFF fish caught. I remembered wondering about how adeptly Rob and Vince seemed to handle the mud in their swim during that last catch, and realized when I pulled up my pod that the mud had frozen, making the footing much more managable.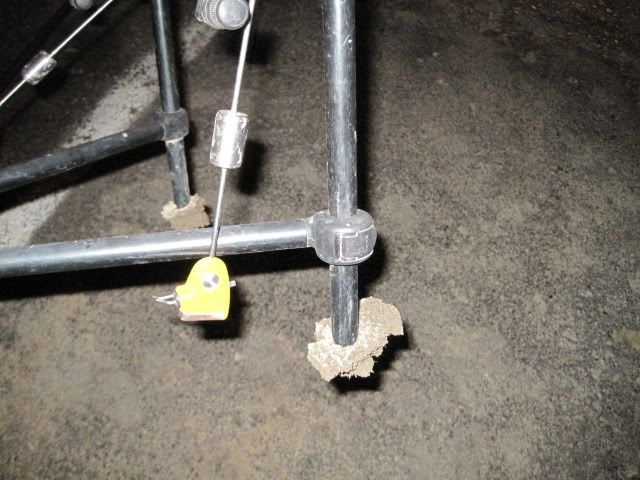 After I left, River Rick managed to bank a small common for his FFF fish. I'll let him pick up the story from here.
Please fill in anything I missed, Ohio crew!
(I had a great time this year, gents! It was nice meeting new friends, seeing old ones and dipping a line. The score now stands at Rachel 1 and Bigbird 1. I sense a grudge match is in the offing.)